"Particularly efficient investment for all three"
In Westland HortiTech, Harmoniz, and Metazet have found a greenhouse that they will jointly have converted into an R&D greenhouse. The conversion is now in full swing. Last Friday, the official launch of the project with (construction) partners took place. "We are our own consulting firm," laughs Pim van Adrichem of HortiTech. The official opening will follow in 2024. By then, the cultivation of Lisianthus in the greenhouse in Honselersdijk will have been completely exchanged for all kinds of demonstration crops.
HortiTech has had the ambition to start a modern, new R&D greenhouse for some time. Together with Harmoniz and Metazet, they had their eye on the greenhouse at Floralis Lisianthus Nursery. They are wrapping up cultivation until the end of the year, but in the meantime, they are already giving the company all the space it needs to convert. "The growers are totally on board with our plan," he says.
Well-equipped
The greenhouse at Gantellaan 8 is 5.8 meters high, with a CHP system, lighting, 400 solar panels on the shed, and an OCAP CO2-connection. "It is a sizeable nursery for what we are going to do," acknowledges Peet van Adrichem. Together with his sons Pim and Perry, he founded HortiTech in 2019. Not long after, Ary de Jong joined them. "We are taking a risk, but we can do that with the experience we have," Peet says.
The three partners are buying the greenhouse together and will carry out activities such as breeding and innovation testing under the watchful eye of HortiTech. In Metazet's case, that means testing and demonstrating their own innovations in a practical greenhouse environment. Luke van Adrichem: "We want our products to meet the growers' needs as closely as possible. We have always traditionally done this by literally and figuratively working together, on-site with the growers."
But besides working on-site, the horticulture of the future requires more, the Metazet CEO knows. "If a possible cultivation innovation is conceived, you want it to be substantiated and not just experimenting on several hectares in a commercial nursery. Having your own greenhouse where representative cultivation can be done on a smaller scale means you can test more quickly and simulate more extreme situations. This accelerates innovation and underpins it more thoroughly."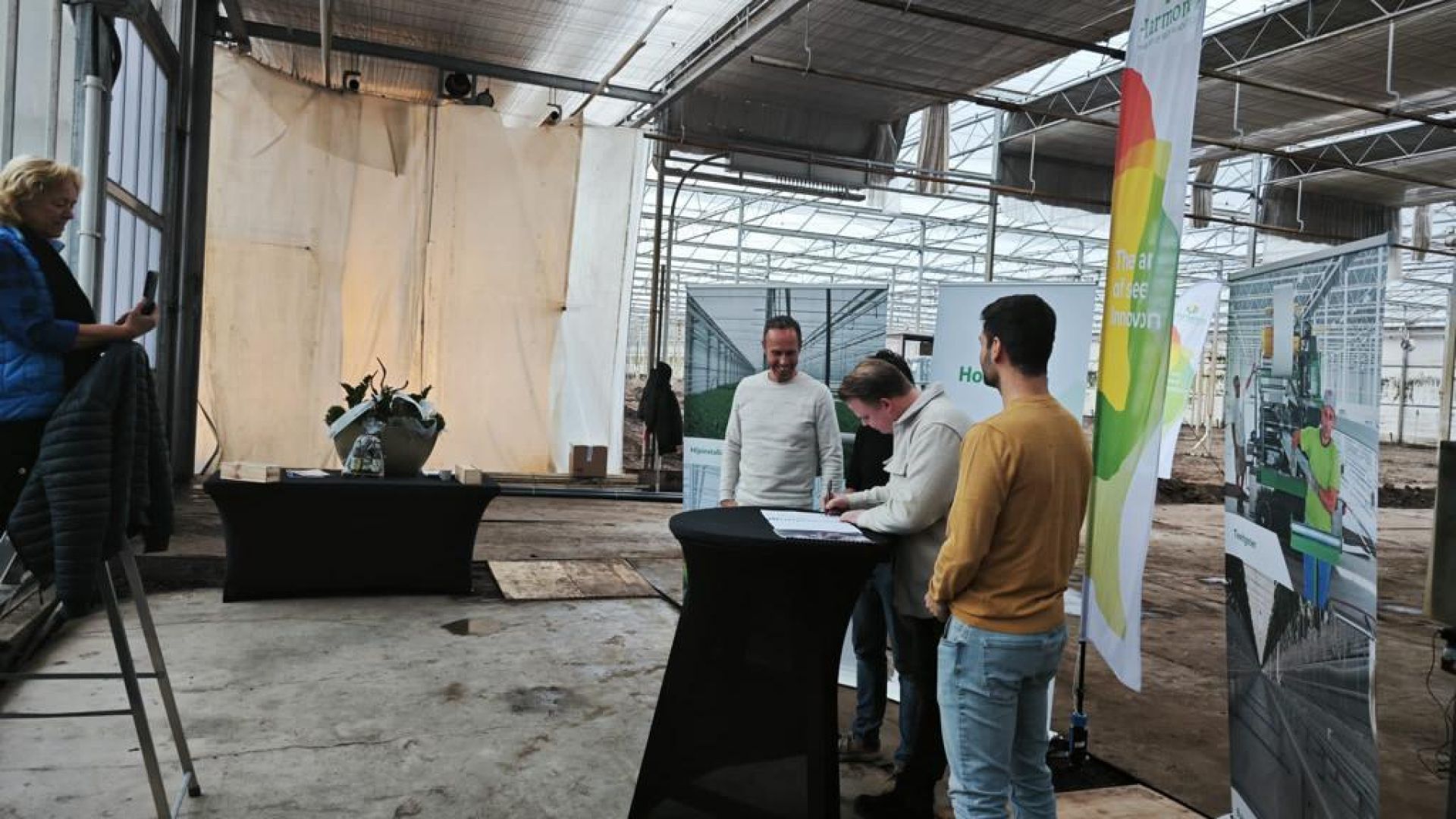 1. Signatures with building partners.
Particularly efficient investment for all three
The activities of the breeding company Harmoniz will start first. The earthworks in progress during the official construction start will take place in the part of the greenhouse where the breeding company's tomatoes will soon be the first to grow. Currently, this is still the case at a rented location in a commercial tomato-growing facility elsewhere in Westland.
Harmoniz has been actively seeking its own R&D location since 2021. This was when the contact with HortiTech was also established. The company wants to integrate all its breeding activities for modern, high-tech tomato cultivation at the Honselersdijk location. There will be a selection of greenhouses, cross-breeding greenhouses, and a propagation area.
"We don't need 3 or 5 hectares for our breeding goals, but we do need a greenhouse that meets the standards for modern greenhouse vegetable cultivation," says Paul van Dijck, General Manager of Harmoniz Netherlands. "The size of this company, over 1.6 hectares, the infrastructure, and the combination with the other partners HortiTech and Metazet makes it a particularly efficient investment for all three. The space is used in the best possible way, and we can make use of each other's knowledge and network, which can create a synergy effect."
Connecting with grower practice
HortiTech itself is betting on the upcoming summer season. It mainly wants to test technical innovations with "long-term research partners" but will not shy away from testing its own ideas either. For this purpose, greenhouse compartments in various sizes from 200 to 600 square meters are available. "That way, projects are better aligned with growers' practices," Peet knows. "Our aim is not to run a project resulting in the recommendation for a new project. We are investing immediately in practical results."
Through the principle of 'you ask, we do,' the intention is to provide the opportunity for doing one's own projects. The existing lighting will be removed during the conversion. Compartments can be technically arranged for projects as required. In doing so, in principle, nothing is too crazy. "In the old demo nursery (on Zwethlaan ed.), we also once took the glass out of the deck for a trial with haze glass," Peet recalls. Something similar could also be done at Gantellaan. "Furthermore, we have good soil here, so soil-based cultivation is also possible."
Multiple earning models
Greenhouse projects are an important branch of the future R&D greenhouse, but not the only goal. "We are investing in multiple revenue models per square meter," indicates Pim. HortiTech is also active in providing training and involved in the development of demo centers abroad. "We get a lot of questions from abroad about how you do it running a demo center. A demo center can take areas to a higher level when it comes to horticulture. Here in Honselersdijk, we will soon be able to show that and also train people so they can safely make mistakes. With our own R&D greenhouse, we can standardize training."
It is emphatically not the intention of HortiTech and the partners in the project to get in the way of existing demo centers. "We will not become a public center in which the public walks in and out. The World Horti Center remains the designated location for that. Growers and technical parties can visit us by appointment."
Enquiry
Growers will also join trials. HortiTech also hopes that the new greenhouse will become a source of information on mechanization issues. "There are many such questions among growers," Peet knows. "Between robotics and manual labor, there is also one simpler intermediate step: mechanization. We can play a positive role in this. We bridge the gap between fundamental research and commercial practical application."