A unique PVIS
Newly born from the merger of the Israeli companies Nirit Seeds and Tomatech, the international seed company Harmoniz, preserve the legacy of leading company in the development of innovative, flavorful and virus-resistant tomato varieties, such as ToBRFV, thanks to the synergies of its excellent and experienced teams, its advanced R&D capabilities, molecular technology and breeding techniques, and its marketing channels worldwide.
On the theme of ToBRFV, Harmoniz has consolidated its innovative strength over the last 7 years, reaching a leading position today thanks to a unique plant virus inoculation system (PVIS) developed in 2015 by the company's R&D team.
1. Securing full and uniform infection of ToBRFV by manually infecting the plants at young age, the entire greenhouse is infected on the same day
"Considering the unclear limits when defining in practice the level of resistance to ToBRFV of a variety," says Shai Leviatov VP R&D Harmoniz "it is probably more appropriate to make explicit what allows us to declare our varieties as "resistant" to ToBRFV. At Harmoniz, when we declare our hybrids as resistant to ToBRFV, we refer to varieties that were infected at the early stages of the crop and tested several times under control and severe inoculation conditions. Under our testing conditions, these varieties preserved the ability to produce high level of commercial quality yield, without showing symptoms of disease in the plant and fruit – productivity and fruit quality are not compromised, there is good color, taste, uniform size, weight and shape".
Thanks to this unique PVIS, Harmoniz offers wide range of commercial and pre-commercial varieties resistant to ToBRFV in various segments: the red miniplums Basoche, Dormaplum and Flor de Andalucía, the midi plum Midres, numerous specialties  like Catando, TT-768 or Tom Ruby, and a new advanced generation of resistant hybrids in all key segments, including TOV, which will be part of our commercial range in the campaign 2023-2024.
However, the ToBRFV-resistant varieties are only part of Harmoniz's wide commercial offer for the Spanish market. In fact, the Harmoniz range includes leading varieties of segment already recognized in the market.
---
Novelties 2023 in the large-sized Cluster segment
Constelación (TT-187) and Cosmostar, TOV for a complete cycle
In the cluster segment, Harmoniz doubles its proposal with Cosmostar and Constelación, offering farmers the possibility to maximize their profitability.
Cosmostar is a variety for short cycles already cultivated in both the West of Almeria and the East. While Constelación, new for 2023, is recommended for long cycles transplanted at the end of August. Both plants are strong and balanced, with good performance throughout the year and early harvest. Highly appreciated for the high production, cluster uniformity, fruit size (140-160 gr) and quality: tomatoes with very good skin, without cracking or microcracking, excellent deep shiny red color, firmness and post-harvest life, with an intense and traditional flavor.
2. (Left) Cultivation of Constelación; (Right) Cosmostar cluster
Tucait, new plum 2023
In the large sized plum segment, Harmoniz launches this year Tucait, a variety with a balanced and very productive plant, recommended for short cycles and ideal for early tranplants, very well adapted to different growing conditions – either in the area of Nijar or in the area of El Ejido. It is a variety with excellent quality of fruit for uniform size (150-200 gr) and color, very striking and intense, firmness and shelf life with no cracking.
---
Small sized: cherry Korino and mini-plum Ultiplum
Korino, the leader
Korino is the "authentic" cherry tomato, segment leader for several years and exported throughout Europe, guarantees maximum profitability to growersthanks to its yield and fruit quality, ideal for a market that demands flavor, long shelf life and satisfaction in the segment.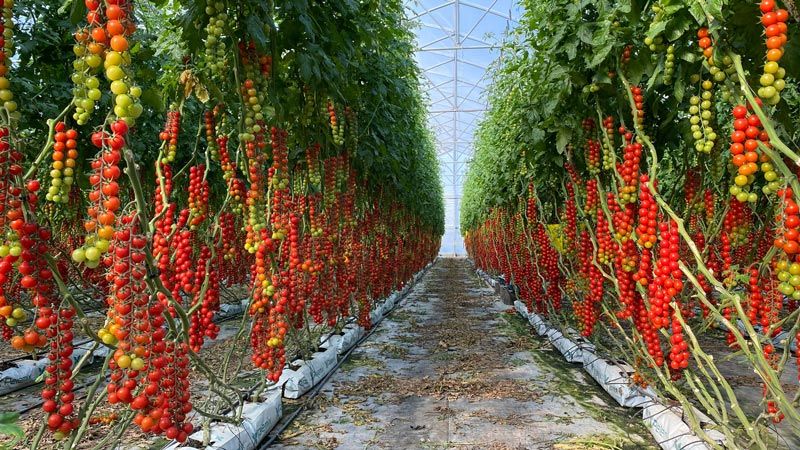 Mini-plum Ultiplum
Red loose mini-plum with extraordinary high yield, well adapted to different growing conditions, already cultivated by several reference companies in the coast of Granada and in the area of Almeria. The plant, short internode and good setting, is very versatile and ideal for early and late transplants. Fruit quality is also outstanding: a 20-gram diameter fruits reaching 8-9 Bx°, uniform and striking red colour, no green shoulder and no cracking at any time of year.